Product Description
Sharing the same winning acoustic features of KEF's renowned LS50, LS50 Wireless enables the user to easily enjoy excellent music reproduction, previously only achieved with a system comprised of separate high quality components. Created without compromising on any of LS50's award winning acoustic capabilities, LS50 Wireless adds audiophile-grade amplification and sound processing, as well as extensive connectivity. The LS50 Wireless features Tidal Streaming, is a Roon endpoint providing the ultimate in flexibility and connectivity, and is compatible with all music streaming services.
LS50 Pedigree
All of the acoustic features and innovations that set the LS50 apart from every other speaker in its class remain. The FEA-designed cabinet with its constrained layer damping bracing and precision engineered curved baffle, the Uni-Q driver and the elliptical flexible port all work in concert to prevent cabinet vibration and resonances that produce unwanted sound coloration – putting you that much closer to how your favorite music was intended to sound.
Uni-Q sound taken to the next level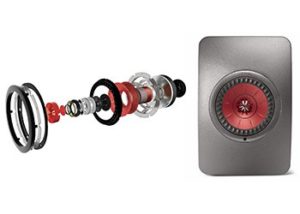 To get the most out of your music, every note should arrive at your ears at exactly the right time. Before KEF perfected our Uni-Q technology, this perfect time alignment could only be experienced in a small 'sweet spot,' leaving listeners outside of the 'sweet spot' with a less than ideal listening experience. Uni-Q changed that, opening up the optimum listening space to practically every spot in your room. The LS50 Wireless employs an advanced time correcting DSP crossover which takes that awesome achievement to the next level by correcting for inherent time delays introduced in the crossover stage. Amazing sound dispersion matched only by a live music performance is now attainable in virtually every room. This incredible achievement cannot be reproduced by any other active speaker.
A complete fully active system
The LS50 Wireless features an end-to-end 192kHz/24-bit high-resolution digital signal path, a streaming pre-amplifier, and two separate DACs for each channel, for a total of four. Powered in the analogue stage by an incredibly fast and clean 230 Watts per channel in a bi-amp dual mono configuration, the LS50 Wireless is a complete, high-fidelity music system that will cost you far less than you'd spend putting together the separate components necessary to match the performance of the LS50 Wireless. LS50 Wireless gives you all of the connectivity options you'll need to get the most out of your music, including 2.4GHz/5GHz Dual-band Wi-Fi, Bluetooth 4.0 aptX, Asynchronous USB Type B, TOSLINK Optical, and RCA-type line-level analogue inputs. A dedicated LS50 Wireless app (available for iOS and Android) easily facilitates network setup, music streaming, playback and DSP control.
SPECIFICATIONS
Compatibility: Spotify Connect
Tidal HiFi
Roon
Drive Units: Uni-Q driver array:
HF: 25mm (1in.) vented aluminium dome
LF/MF: 130mm (5.25in.) magnesium/aluminium alloy
Frequency Range (-6dB) Measured at 85dB/1m
40Hz – 47kHz (More bass extension)
43Hz – 47kHz (Standard)
46Hz – 47kHz (Less bass extension)
Depending on speaker settings
Frequency Response (±3dB) Measured at 85dB/1m
45Hz – 28kHz (More bass extension)
50Hz – 28kHz (Standard)
61Hz – 28kHz (Less bass extension)
Depending on speaker settings
Max Peak SPL: 106dB
Inputs: 2.4GHz/5GHz Dual-band Wi-Fi network
Bluetooth 4.0 with aptX® codec
USB Type B
TOSLINK Optical
RCA Analog Line Level Input
10/100 Mbps RJ45 Ethernet (For network and service)
Output: Subwoofer output
Amplifier Output Power:LF: 200W | HF: 30W (Per Speaker)
Bluetooth Range: 10m
Bluetooth Memory: 8 devices
Resolution: Up to 24bit Depending on source resolution
Sampling Rate: Up to 192kHz (USB Type B)
Up to 96kHz (TOSLINK Optical)
Depending on source resolution
Wi-Fi Network Standard: IEEE 802.11a/b/g/n
Wi-Fi Network Frequency Band: Dual-band 2.4GHz/ 5 GHz
Power Input: 100 – 240VAC 50/60Hz
Dimensions: (H x W x D) 300 x 200 x 308mm
Weight: Left Speaker 10.0kg Right Speaker 10.2kg
Weight:Left Speaker 10.0kg Right Speaker 10.2kg