Description
MEZE X RINARO
COLLABORATION
Time flies when you're having fun! Together with Rinaro Isodynamics, we are adding a third model in our collaborative lineup. LIRIC raised a true challenge for both companies: how can we create a planar closed-back headphone that will change all standards in the audiophile world. Fusing Meze Audio's industrial design capabilities with Rinaro's technological development, LIRIC brings a new flavor for all the active audiophiles that like to take their music on the go.
Meze Audio
For the past 10 years, Meze Audio has been developing audiophile headphones and earphones renowned for their timeless design, pure comfort and engaging, vivid sound. From looks to technology, Meze Audio products are designed to surpass all short-living trends and become heirlooms, rather than just headphones. Today, founder Antonio Meze and his skilled team design and develop their products in Baia Mare, Romania, in the spirit of their original 'no-compromise vision.
Rinaro Isodynamics
Rinaro originated in the USSR (today's Ukraine) during the Cold War, as part of a state-funded acoustic technology research program. With government backing and access to advanced testing facilities, the team was able to focus all of its efforts on planar magnetics. A field they have continued to innovate in for the last 30 years, since the collapse of the USSR. In the last decade, Rinaro have expanded their capabilities and capacity with the development of state-of-the-art R&D and manufacturing facilities in Ukraine and Poland. The new facilities have been a driving force in the creation of the revolutionary Isodynamic Hybrid Array technology found in Meze Audio EMPYREAN, ELITE and LIRIC headphones.
AWARD-WINNING TECHNOLOGY
IN A PORTABLE FRAME
LIRIC features the state-of-the-art technology developed by Rinaro, re-engineered for day-to-day use. The MZ4 Isodynamic Hybrid Array driver was scaled down and tuned to deliver an audio experience in-line with it's larger counterparts found in Empyrean and Elite.
Combined with the closed-back design, it helps preserve the original clarity and emotion of your favorite music through enhanced sound and minimized external noise. Each driver is entirely hand assembled and tested in Rinaro's industrial facility in Ukraine.
[MZ4] CASING
Reinforced polymer housing designed to withstand the demanding 10,7N load generated by the Hybrid Magnet Array.
[MZ4] ISOPLANAR DIAPHRAGM
Weighing only 0.08g with a large active area of 3507mm2.
[MZ4] HYBRID MAGNET ARRAY
Symmetrically placed on either side of the diaphragm our neodymium magnets are arranged into a Hybrid Array to create a 0.3 Tesla Isodynamic magnetic field required for a uniform activation across the whole diaphragm surface.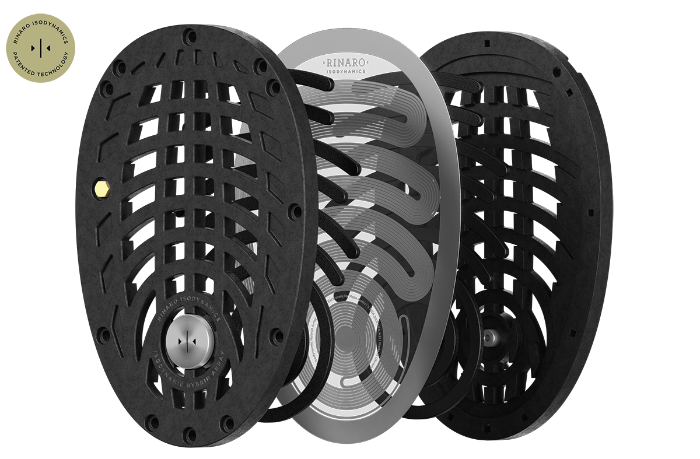 AN AUDIOPHILE-WORTHY
EXPERIENCE ON THE GO
Combining high-end materials with an ergonomic design approach and a sleek, modern finish, LIRIC is made for the audiophiles who want to enjoy their passion in and outside the house, for hours on end.
LIGHTWEIGHT
MAGNESIUM SKELETON
A lightweight magnesium skeleton ensures the headphones stay flexible, shock-resistant and oxidation free, while maintaining an ideal fit for long listening sessions.
OPTIMAL
AIRFLOW CONTROL
Padded headband cushions are symmetrically placed in a "+" shape to allow proper air flow, and lowers the heat and humidity buildup. Covered in genuine leather, the headband is perfectly tuned for optimal pressure distribution – it follows the structure of the head, creating firm and even contact.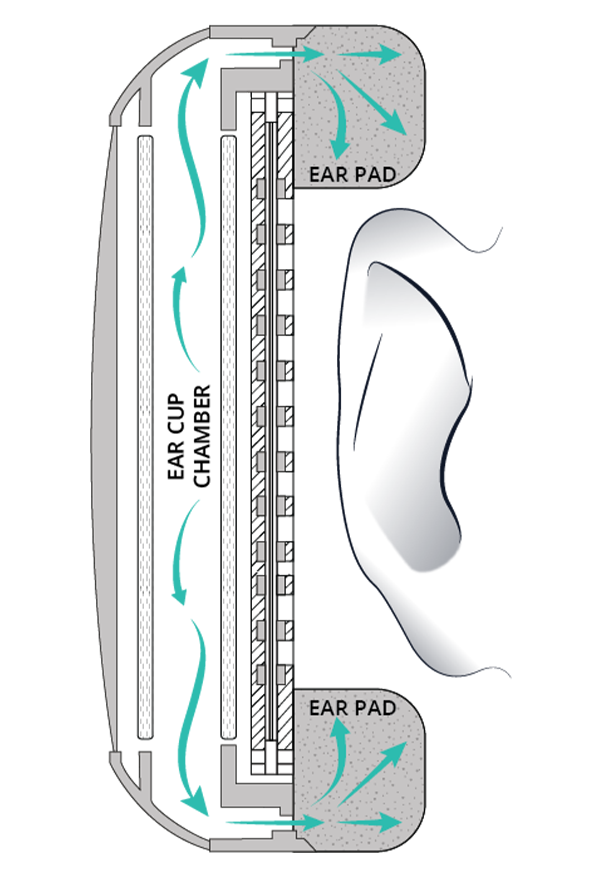 Just like all Meze Audio headphones, LIRIC is easily adjustable for a sturdy, yet comfortable feel that fits most head shapes.
ERGONOMIC
OVOID SHAPE
The choice of an angled ovoid ear cup shape was best for surrounding your ears closely without adding unnecessary pressure or weight, at the same time offering a deeper sound and a better passive sound isolation.
PRESSURE
EQUALIZATION SYSTEM
A precisely tuned air vent hole can make a world of difference in how you perceive the sound around you, that is why we've learned and adapted from our previous experiences and decided to add our Pressure Equalization System in LIRIC's ear cups as well. The result: better controlled airflow, improved ear cup chamber pressure, and a sound that is airy, transparent, detailed and flows naturally, enveloping you into a whole new world of music.
STRIKING
DETAILS
Achieving the highly-refined finish was definitely a challenging process. The union of black leather, gloss-matte spatters on magnesium, and metallic copper accents were the perfect addition to this contemporary aesthetic, completing its portable personality.
SPECIFICATIONS
OVERVIEW
Driver Type
Rinaro Isodynamic Hybrid Array® MZ4
Operating Principle
Closed
Ear Coupling
Circumaural
Frequency Response
4-92,000 Hz
Impedance
30 Ω
Nominal SPL
100 dB (1 mW / 1 kHz)
Maximum SPL
> 130 dB
Total Harmonic Distortion (THD)
<0.15%
Weight
391 g
MZ4 DRIVER SPECIFICATIONS
Geometrical Shape
Ovoid
Size
92mm x 63mm
Driver Weight
71 g
Casing
Fibreglass reinforced polymer
Diaphragm Type
Rinaro Isoplanar® MZ4
Active Area
3507 mm2
Diaphragm Weight
0.08 g
Acoustic Mass
6.5 kg/m4
Lower Frequency Limit
4 Hz
Upper-Frequency Limit
92,000 Hz