Description
Olympica Nova is the second generation of the iconic family of 2013, improved in its form and substance, imbued with the timeless values that inspired us in creating the original line.
The result is a new Collection that embraces the most advanced technologies that already enhance our most prestigious creations.
ORGANIC SHAPE
The lack of flat and parallel walls improves enclosure performance and maintains the typical asymmetrical Lute shape of first generation Olympica.
The asymmetrical shape of the cabinet is an original design concept that allows versatile positioning of the speakers to tune the bass response in any room.
Inspired by nature, the lines follow the flow of a circular spiral motion, achieving a more organic cabinet structure.
No longer just a functional element added to handle airflow, the reflex duct is now fully integrated into the cabinet, further improving the speed and transparency of sound.
WOOD
Just like the rest of the cabinet, the front baffle is made in the walnut or wengè hand-finished natural wood. Our designers wished to pay homage to the most representative material of Sonus faber, making it even more of a standard-bearer.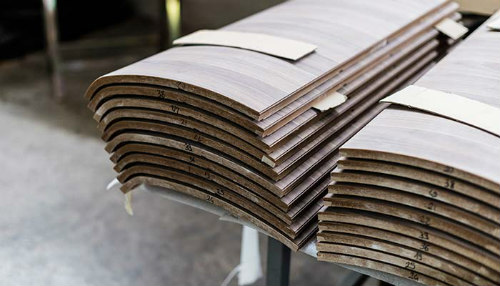 STRUCTURAL RIGIDITY
Similar to the Homage Tradition and Reference Collections, the walls are made with eight layers of bended wood, providing the cabinet with extreme rigidity. Inside the cabinet, carefully placed structural ribs are used as reinforcement to reduce vibration and to handle the overall power of the transducers movement.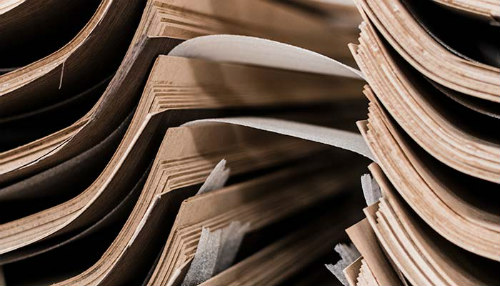 REFLEX PORT
The solid piece of extruded aluminum that complete the Stealth Ultraflex™ system, an extremely low-turbulence porting system, is inherited from Homage Tradition models. Favoring the profile of sea waves, the structure facilitates airflow through the duct while controlling its speed and reducing the distortion-causing turbulence.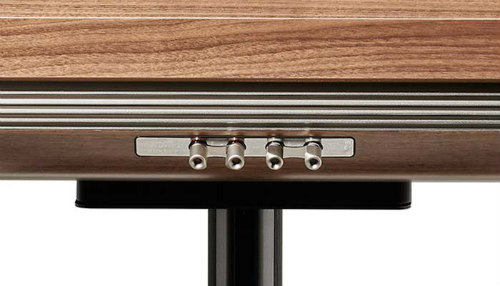 TWEETER
The 28 mm silk soft dome tweeter features the DAD™ technology (Damped Apex Dome™) that enhances the smoothness and extension in the high frequency by applying local dampening to the apex typically responsible for anti-phase behavior of soft dome diaphragms. The DAD™ structure has been totally redesigned; a solid piece of aluminum die-cast includes both arch and ring on the dome to increase the strength and accuracy of the system.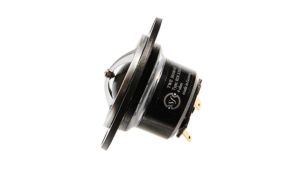 MIDRANGE
The midrange has been designed and built completely in Sonus faber laboratories. The cone is comprised of an air-dried, non-pressed blend of cellulose pulp, Kapok, Kenaf, and other natural fibers. This natural treatment gives the cone a slightly rough surface of varying density, which reduces cone resonance, guaranteeing a natural sound with increased transparency and greater detail.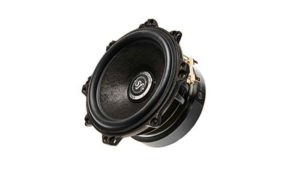 MADE IN ITALY WOOFER
The woofer cone is made in Italy and benefits from an exclusive sandwich construction technique: two sheets of cellulose pulp are combined with a hi-tech syntactic foam in between them. This low-mass, high-rigidity structure provides fast and powerful sound reproduction while allowing total coherence with the mid-high units.
SPECIFICATIONS
SYSTEM
3 way, full para-aperiodic vented box "Stealth Ultraflex", stand mount loudspeaker system
LOUDSPEAKERS
Tw: H28 XTR3, Neodymium "cup design" motor system with DAD™, Ø 28 mm
Md: 2 x M15 XTR2-08, CCAW wire on a "eddy current free" voice coil, Ø 150 mm
W: 2 x W18XTR2-08, Ø 180 mm
CROSSOVER
250 Hz – 1.550 Hz
FREQUENCY RESPONSE
35 Hz – 35.000 Hz
SENSITIVITY
90 dB SPL (2.83V/1 m)
NOMINAL IMPEDANCE
4 ohm
SUGGESTED AMPLIFIER POWER OUTPUT
50 W – 300 W, without clipping
DIMENSIONS (HXWXD)
278,1 (719,9 stand included) x 866 x 459,7 mm
11 (28.3 stand included) x 34 x 18 in
WEIGHT
29 kg – net weight (37 kg stand included)
63.9 – net weight (81.5 lb stand included)