Description
Toroidal Transformer
Toroidal power transformers, renowned for their superior performance in Hi-Fi components has been appointed to power the A-S2200. Its ability to maintain energy when compared to substitutes aids the A-S2200 in delivering all the emotional energy of the artist infused in the music.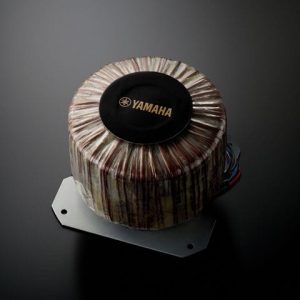 Thick Wires for Ground Connection by Low Impedance Concept
A naturally open sound stage is achieved through a culmination of design and component selection. Thick wires for ground connection were purposely selected, adding to the overall low impedance amplifier design, producing a wide and open sound stage for the listener. Consequently, the components disappear, leaving the artist in their place.
Original Speaker Terminals
Cut directly from pure brass, the luxurious speaker terminals effortlessly allowing tightening by the human hand achieving a highly secure connection.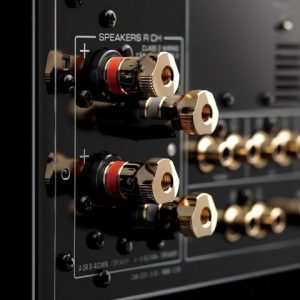 SPECIFICATIONS
Maximum Power (4 ohms, 1kHz, 0.7% THD, for Europe): 160 W + 160 W
High Dynamic Power/Channel (8/6/4/2 ohms): 105/135/190/220 W
Rated Output Power: [20 Hz-20 kHz, 0.07% THD] 90 W + 90 W (8 ohms), 150 W + 150 W (4 ohms)
Damping Factor: ≧ 250 (1 kHz, 8 ohms)
Frequency Response: +0 / -3 dB (5 Hz-100 kHz) , +0 / -0.3 dB(20 Hz-20 kHz)
RIAA Equalization Deviation: +/-0.5 dB (PHONO (MM/MC))
Total Harmonic Distortion (20Hz to 20kHz): [Input 0.5 V] PHONO MC→LINE2 OUT: 0.02 % (1.2 mVrms), PHONO→LINE2 OUT: 0.005 % (1.2 Vrms), CD, etc./BAL→SP OUT: 0.035 % (50 W/8 ohms)
Signal-to-Noise Ratio: PHONO MC: 90 db, PHONO MM: 96 dB, CD, etc.: 110 dB, BAL: 114 dB
Input Sensitivity: [1 kHz, 100 W/8 ohms] PHONO MC: 150 uVrms/50 ohms, PHONO MM: 3.5 mVrms/47 kohms, CD, etc.: 200 mVrms/47 kohms, MAIN IN: 1 Vrms/47 kohms, BAL: 200 mVrms/100 kohms
Transformer: 625VA (Toroidal)
Dimensions (W x H x D): 435×157×463 mm; 17-1/8″ x 6-1/8″ x 18-1/4″
Weight: 22.7 kg; 50.0 lbs